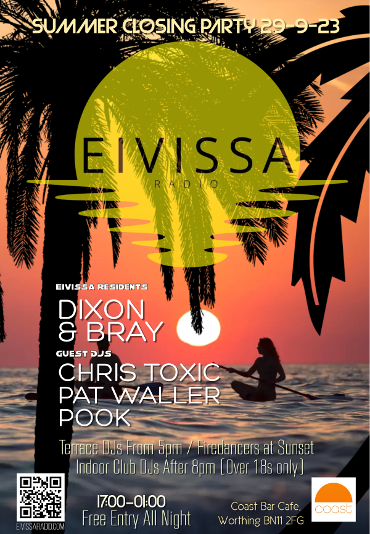 Friday 29-9-23 Coast Cafe, Worthing. 17:00 - 02:00
Join us for our Last Dance of 2023 at Coast Café Worthing,
We've had an incredible Summer with local talent and global DJs and we need you all down here for one last party! This one starts from 5pm with DJs spinning out on the terrace, with fire dancers at sunset and then club room sounds from 8pm. This one is not to be missed!
This line up is all about local talent and we are excited to have 2 fantastic producers join Dixon & Bray on the line up.
Pook – Brightons underground Techno King has been producing some absolute tunes over the last 5 years with many of them reaching top 10 spaces on Beatport. Pook is also the joint founder of Size Techno, which have been extremely successful party nights in Brighton over the last decade. Pook has been on the DJ wheel for over 3 decades, from playing on radio shows to some of the largest nightclubs and festivals in the UK. Click the link for his catalogue of tunes on Beatport: https://www.beatport.com/artist/pook/36771
Pat Waller - Has been a DJ and producer for over 2 decades and is currently producing high quality deep house and minimal tech music; Most recently releasing his new track One Point Zero on Oblivium Records as his alias P.A.T. His love for Ibizas underground scene has forged the sound that he produces now, and you can check out some of his previous releases on Beatport: https://www.beatport.com/artist/pat-waller/727720
Dixon & Bray – Eivissa residents will both be out in force again for the final party. Catch them early on with their signature deep organic sound and again later on in the club room!
Eivissa Parties at Coast Cafe dates 2023:
28-4-23 Opening Party
27-5-23 Spring bank holiday weekend party
30-6-23 BIG Summer party
28-7-23 Summer party extravaganza
25-8-23 Summer bank holiday weekend party
29-9-23 Closing Party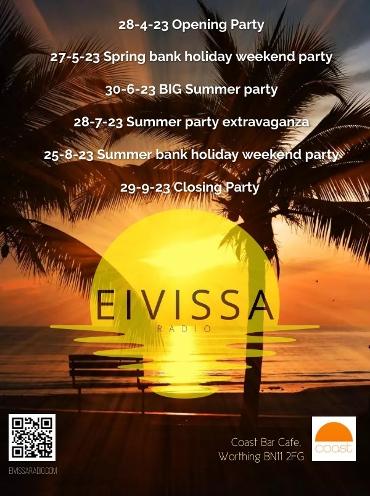 SUMMER 2023 HEADLINERS REVEALED!
CLIVE HENRY 30-6
STEVE KELLEY 28-7
LAYDEE V 25-8