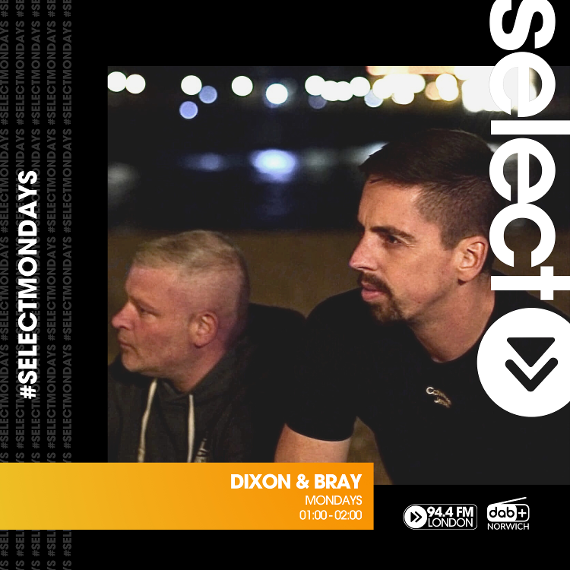 The Eivissa Radio Show will be available from October 2022 on UK based Select Radio online and DAB+ Brighton, London, Norwich. Until then, see our recorded radio shows from the past.
Another great party on bank holiday Friday 26-8-22. Thanks for coming down. Check our insta video story or fb pages for videos and pics.
We had a mention in the Independent paper regarding our party at Coast on 26-8-22.
Thanks to everyone who came down to our event at Coast Cafe on 29-7-22, The night was perfect with good vibes all night. Follow our socials for pics of the event or Click here for video highlights from our insta story feed.
See you soon.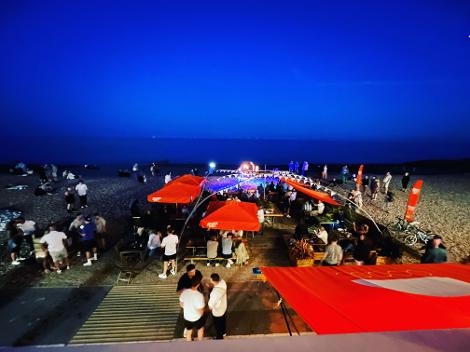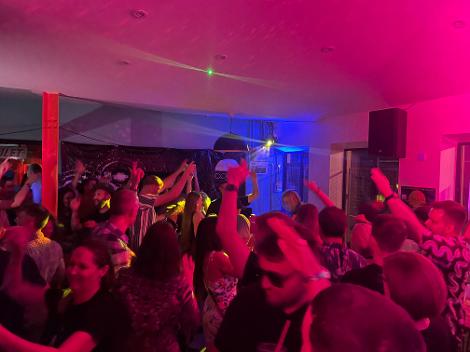 This livestream was recorded during the opening set of the Eivissa Easter Party on 15th April 2022. The livestream takes place at a unique Café Bar right on Worthing Beach which is known for its unique cultural and diverse music parties. The day was one of the first warm spring weekends of 2022 which soon rolled into a full sunset party with fire poi dancing on the beach and club vibes all night inside the venue. Many local DJs from the surrounding areas played deep and tech house until the early hours, Were you there?
What is Eivissa Radio? Eivissa Radio is the brand created by Shane Dixon and Sam Bray, which they use to channel their love for underground music inspired by the White Isle (Ibiza) by playing at local venues, hosting their own radio show live (on www.codesouth.fm and mixcloud) and curating regular Eivissa parties. Follow Eivissa Radio on Facebook and Instagram for the latest news
Club Vibes at the Eivissa party at Coast Worthing 15-4-22 with local guest DJs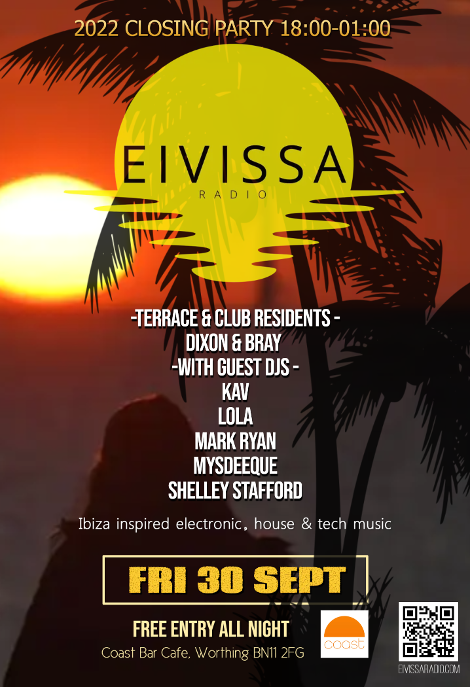 Our final party for this season is on payday Friday 30th Sept 18:00 - 1:00 at Coast Cafe/Bar Worthing, Marine Parade, Worthing, BN112FQ.
DJ line up:

Dixon&Bray - Sunset residents, this time will be playing a peak-time set of bouncy house and tech music in the main room. Get your dancing shoes out!

Kav - Our newest DJ is back again with a bag of fresh Ibiza influenced tunes and great vibes.

Lola - Back by popular demand, Lola is back for another set with us, bringing her perfectly refined club room set.
In case you missed her last time, Lola is active around Brightons underground club scene, has played on Brightons main stage for Pride since 2014 and runs her own successful Techno brand Size.

Mark Ryan - Mark is well known on the underground house scene and will bring us his unique blend of deep tech fused with minimal, bouncy tech house. Mark has recently played at The Arch, supporting super DJs Mason Collective and has also played various bars around Sussex, Kent and Surrey.

Mysdeeque - Is a resident DJ from codesouth.fm and also runs her own brand '4 To The Floor'. Mysdeeque has been on the local DJ circuit for a number of years and plays regularly for well know venues in Brighton and Worthing (and a few festivals!) Known for her quirky house tunes she knows how to get the party moving and grooving!

Shelley Stafford - Worthings finest house music selector!
With DJ skills born and bred from a small vinyl shop in Worthing Shelley has pushed her DJ career and now regularly plays in venues around Worthing and Brighton; regularly appearing on lineups supporting global DJs inc local legends Lizzie Curious and Norman Munchie.
What to expect:

Outdoor sunset DJs

Seating areas

Indoor and Outdoor bars

Food menu (see Coasts socials for latest options)

Indoor club DJs after sunset

Music until 1am

DJs on rotation, inc a b2b special set at midnight with all the DJs of the night.

Free entry
Previous events/guest invites...